The Strategic Organization
Strategy. Alignment. Results.
Need a Contemporary Approach to Strategic Development?
In today's hectic business environment, planning strategy is more important than ever. Companies need a simple process that accurately articulates the organization's purpose and values, creates a flexible plan to realize its vision for the future, and helps keep it on track to reach its goals.
The days of the 5 lb. strategic plan are over. Massive strategic plans are no longer helpful to organizations and, in fact, can take away a company's edge, stifling innovation and creativity. Successful strategic plans achieve a delicate balance between predicting what's going to happen over the long term and retaining the agility needed to respond to unexpected circumstances and take advantage of the unpredictability of today's business environment.
The Strategic Organization is a planning process that produces a sense of stability and certainty in a fast-changing world. It's a contemporary approach to strategic developmentthat focuses on today's challenges and opportunities, while preserving the core ideology that creates stability.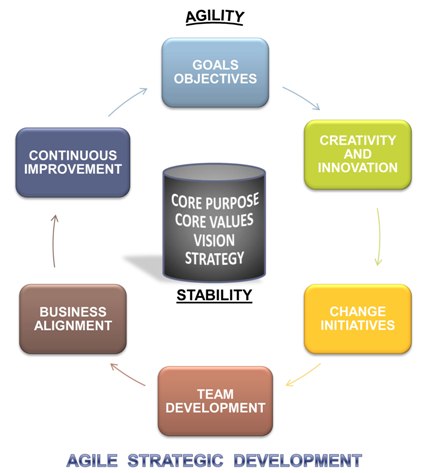 Components:
Core Purpose – Why do we exist? What difference do we make?

Core Values – What do we stand for? What behavioral values are fundamental and irreplaceable?


Business Definition – What business are we in and for whom?

Vision - Where do we want to go? What does it look like?

Strategy – How will we achieve our vision?

Goals – What are our major strategic goals and our current Thematic Goal?
When used well, these classic building blocks hold the key to sustained success. They tie leadership vision to managerial execution throughout the organization and are mandatory for organizational success.
Don't we already have this?
Many companies believe they already have the elements of strategic planning in place. Most have hired consultants to facilitate a company mission statement and values, and probably even have a 5 lb. strategy document that's still sitting on the bookshelf. They've got words on posters that are hung throughout the company. Been there, done that. Right?
Wrong. The Strategic Organization, a contemporary approach to strategic planning, isn't merely about choosing the right words to describe your mission, values or strategy. It's about articulating and agreeing on the core ideology and strategic plan that drives the organization. It's about learning to use them to provide leaders, at all levels, with a common vocabulary and clear set of assumptions about what's important and what's not—about what success looks like and how it needs to be achieved. Strategy. Alignment. Results.
Who is it for?
The Strategic Organization is for companies, large and small, that want a viable strategic plan that's a living, breathing document that people use to guide their decision-making each day and align their teams. This process is for leaders who want to eliminate silos, politics, wasted time and energy.
The Strategic Organization strikes a balance that provides just enough structure to reinforce organizational vision, purpose and values without inhibiting flexibility or innovation.
Why Kappa Source?
Experience, customization and personalization! Kappa Source works with the best, providing High Performance programs and services tailor-made to suit your needs. Our unique synergy of business consulting and integrative coaching makes us uniquely qualified to provide comprehensive solutions, giving us a distinctive edge over any competition. We're extraordinary diagnosticians – give us a few of hours and we'll analyze your situation and prescribe a High Performance solution that promises to exceed your expectations. We create success. Guaranteed.
It isn't business as usual.

Tell me more!
At Kappa Source, we believe the "science of management" has become far too complex. Other visionary companies have already changed the rules. Now you can too! For more information about The Strategic Organization, please give us a call or complete our online form.