Quality Decisions
Make them.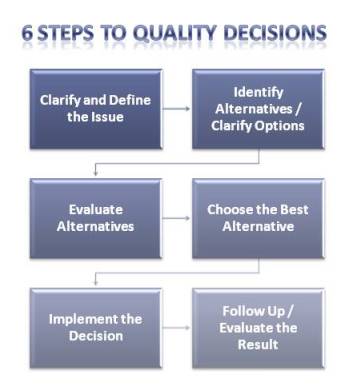 How much are bad decisions costing you?
Whether it's which candidate to hire, vendor to use, or strategy to follow, a successful outcome is dependent upon a great decision. A great decision is one that gets you what you want and creates a lasting solution, one that doesn't have to be revisited.

Quality Decisions provides a framework for making effective decisions employing a simple six-step process. It teaches a systematic, critical thinking approach that can be applied to most decisions, regardless of their complexity. Each workshop is customized with examples and exercises pertaining to real world business issues.
Bottom line...
Focus on the right issues at the right time

Tackle difficult problems

Work through tough issues

Arrive at superior solutions

Make faster, consistent, higher quality decisions that stick
Why Kappa Source?
Experience, customization and personalization! Kappa Source works with the best, providing High Performance programs tailor-made to suit your needs. Our unique synergy of business consulting and integrative coaching makes us uniquely qualified to provide comprehensive solutions, giving us a distinctive edge over any competition. We create success. Guaranteed.
It isn't business as usual.