Who We Are
Work with the best.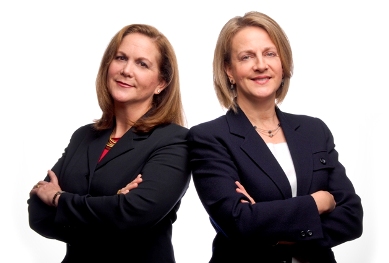 Debbie Charlton and Robin Schuh, Kappa Source founding partners and leadership team, are experienced executives, consultants and professionally trained and certified master coaches. Both have 30+ years experience, in a wide variety of roles and environments, that have prepared them to diagnose and recommend the best solutions to just about any business challenge.
With their academic roots in education, their practical experience in the business world, and their certifications in integrative coaching, they are uniquely qualified to provide optimal solutions, giving them a distinctive edge over any competition.
As an independent coaching and consulting firm, Kappa Source offers solutions no typical, "big box" consulting company can. We're passionate about not only meeting your expectations, but exceeding them. We're committed to excellence and promise that you'll be satisfied—guaranteed! Your success is our success.
"There's an opportunity for greatness in each of us. We consider it a privilege
to help others bring out the best in themselves and their organizations."
Debbie Charlton, Chief Executive Officer
"I know that when we have the ability to envision what we desire, we have the ability to achieve it."
Robin Schuh, Chief Operating Officer
Our Story
Getting real.
As founding partners of Kappa Source, we recognize we're not really much alike. We don't look alike. We don't think alike. We don't see things in the same way. We do, however, share the same parents. We're sisters. And, like two sides of a coin, we complement each other. Our differences have become our strengths.
We ARE alike in some ways. We've both spent a lot of years in the business world, and have earned certifications as Master Integrative Coaches. We both believe in the power of possibility. And together, we know how to turn visions into reality. We envisioned living in the same city and becoming business partners, and we made that dream real.
Our vision for the life we wanted set in motion a personal and professional transformation that continues to inspire our lives today. Just ten short years ago, we fulfilled our dream, and now we're making your dreams come true.
Mission, Vision & Values
We aim high.
Our Mission

Through a unique synergy of business consulting and integrative coaching, Kappa Source fosters positive transformation. We help our clients create the success they want. We bring out the best in them and their organizations by guiding them to build cohesive leadership teams, create organizational clarity, and sustain healthy organizations.

Our Vision

We work with the best, partnering with dynamic companies to transform the corporate world—creating success by redefining what's possible. As a preeminent professional services firm, we are the first choice of visionary leaders.
Our Values
TRUST - It's the foundation of all we do, the most important aspect of any relationship.
INTEGRITY - We stay true to ourselves. We walk our talk. What we think, say and do are aligned.
COLLABORATION - We develop lasting partnerships, giving the best of ourselves.
INITIATIVE and INGENUITY - We always deliver creative, innovative, custom solutions.
FUN - A sense of humor, enthusiasm and fun are key in every aspect of our lives.
PROSPERITY - Success is our goal, for both ourselves and our clients. We have the will and the means to win.
COMMITMENT - You can count on us for the right solution at the right time—guaranteed!
The top 10 things we believe to be true
We have everything we need to be successful. If we can envision it, we can achieve it.

It's up to us. Our thoughts and our actions create our futures.

Our dominant intent is to help people feel better. When we feel better, our confidence pushes us to succeed beyond where we've been before.

Working with our clients is a great privilege and is worthy of the best of our minds and hearts.

We focus on strengths. Success is about developing strengths versus "fixing" weaknesses.

Leadership has as much, if not more, to do with who we are being as what we are doing.

We understand that our success hinges on the quality of our relationships with our clients.

By leveraging the synergy of coaching and consulting, we provide the best solutions possible.

We're in the business of creating success for our clients and ourselves.

We are constantly learning, growing and expanding as human beings. (That means this list is a work in progress.)